Shirley Valentine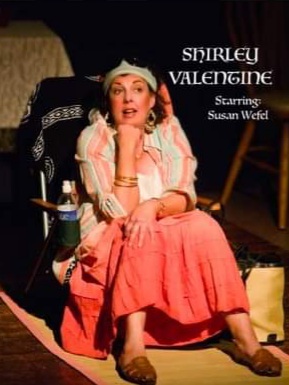 Candlelight is proud to present, for two performances only - Susan Wefel as Shirley Valentine. Join us and experience this inspiring story of a woman's journey to self discovery.

"The actor here is Susan Wefel, a talented and brave woman who clumps onto the stage, totally Shirley, and slips directly into our hearts. She talks to the wall, she talks to herself, she even talks directly to us (a minor flaw of breaking the fourth wall, but necessary) and carries the entire weight of meaning on her capable shoulders. Her walking, sitting, posture, head movments, everything, was perfectly Shirley, and perfectly done. Shirley was real. Surely, you can remind yourself it's just an actress. But relax and enjoy! It is Shirley."
GARY LABOWITZ - Stage Magazine

This event does not include dinner. A cash bar is provided and snacks (chips and pretzels) will be available for purchase.
Small parties may be seated at a large table with another small party. Please call the box office if you have any questions or concerns. (302) 475-2313.
Updated Covid Requirements:
Proof of vaccination or negative Covid test result required. https://www.candlelighttheatredelaware.com/updated-covid-19-requirements/
Masks are encouraged but optional.
If you are not feeling well, please stay home.