Broadway Dreams Master Class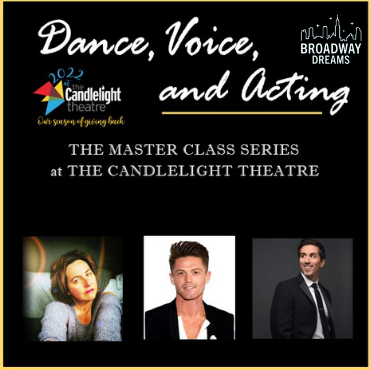 Broadway Dreams and the Candlelight Theatre present Annette Tanner, Founder of Broadway Dreams; Spencer Liff, choreographer whose credits include 'So You Think You Can Dance' and the Broadway revival of Spring Awakening; and Matthew Scott who starred on Broadway in An American in Paris and Jersey Boys. They will help aspiring performers prepare to meet the expectations of Broadway Directors. A full scholarship to Broadway Dreams' summer program will be awarded at the end of the class. This class is for serious performers ages 14 and up.
Vaccinations or negative tests required, and masks covering the nose and mouth are required. See website for current Covid precautions.
Space is limited.
Attire: Clothes to dance in
Shoes: Jazz shoes or sneakers
Vocal: Bring your book - 2 pieces prepared- size of class will determine how much or how many pieces will be sung.